At present, I am awake an early morning in Portland, OR jet-lagged after arriving yesterday evening. To travel to United States from Sweden today, you need your passport and an ESTA application. Hundred years ago, when the big emigration from Sweden took place, there were no passports. However, you needed to have other travel documents. Last year, when we had a Swedgen workshop in Denver, Colorado Doris Ferguson provided for me three documents: Prestbetyg, Utvandrarkontrakt and Certificate of Naturalisation for Gust Liljander who emigrated from Sweden to US in 1891.
Prestbetyg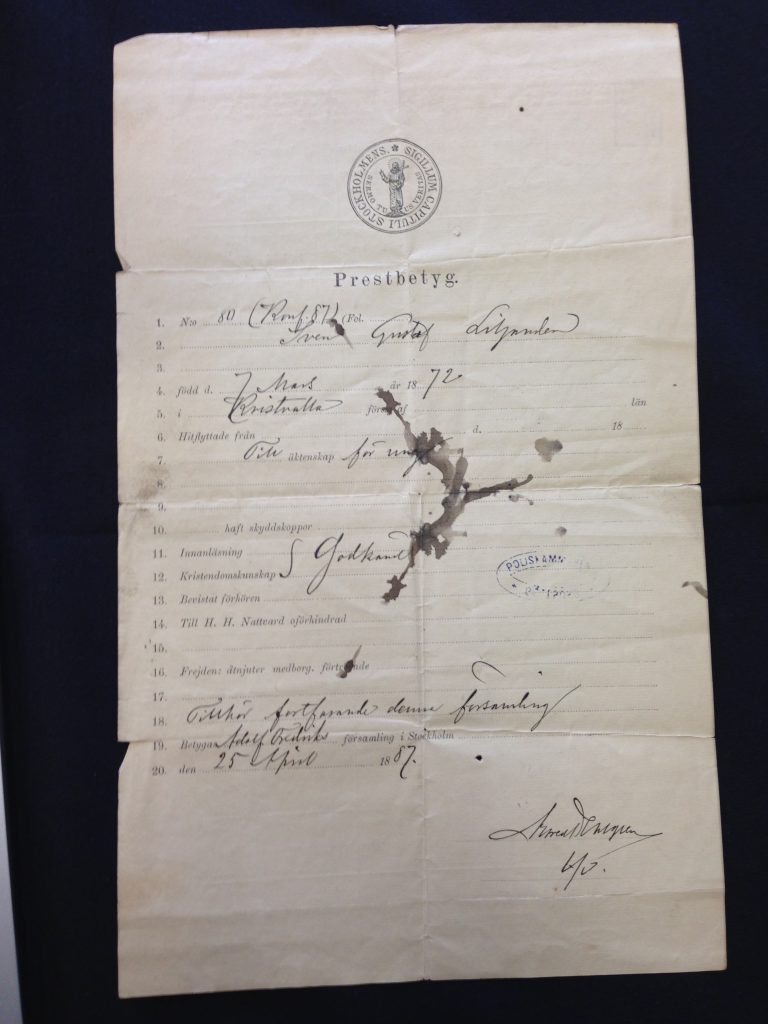 In Sweden, when you were moving out from a parish, you were supposed to ask for a moving certificate from the parish priest. This is a prestbetyg for Sven Gustaf Liljander, born 1872 in Kristvalla parish, Kalmar län. The certificate gives your name, birth date and place, whether you are married or not, smallpox vaccination, knowledge of reading and the bible. When you arrived to the new place you left this document to the priest in the parish. Without the document you were not allowed to get married. If it took you to long between getting the document at one place and submit it at the next place, it could create problems.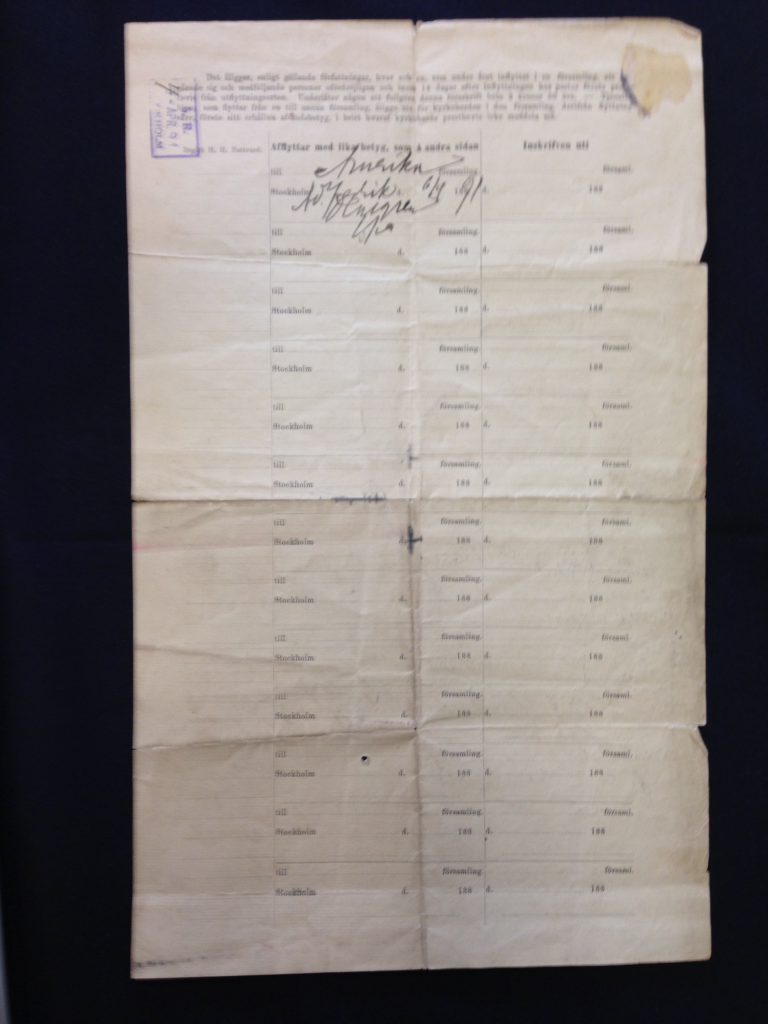 In this case, the moving out information is on the back page. He asked for prestbetyg to move to America April 6, 1891.
Utvandrarkontrakt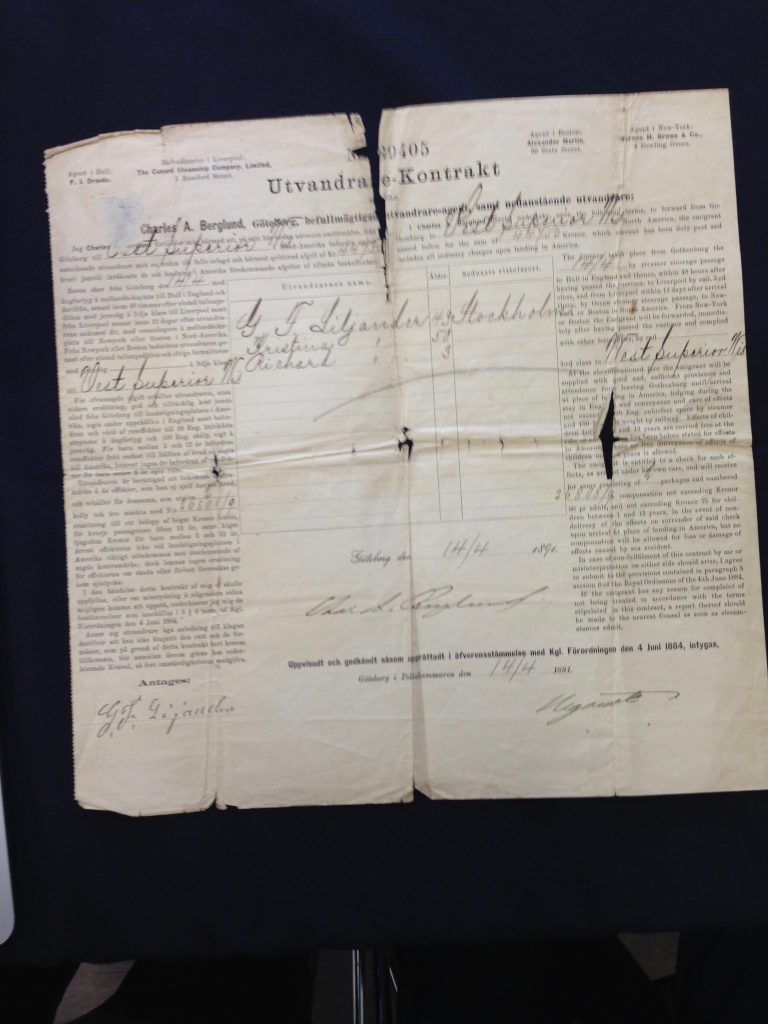 Utvandrarkontraktet – the Contract of Emigration – was a combination of the ticket for the travel and a permission to leave the country by the police authorities. This contract is for Sven Gustaf Liljander's family G F Liljander 43 y o, Kristina Liljander 50 y o, and son Richard 3 y o. The ticket is to West Superior, Wisconsin and the price was 44,50 kr (equivalent to 5000 USD today using a salary index). Sven Gustaf had a separate Contract of Emigration with New York as the destination.
Certificate of Naturalization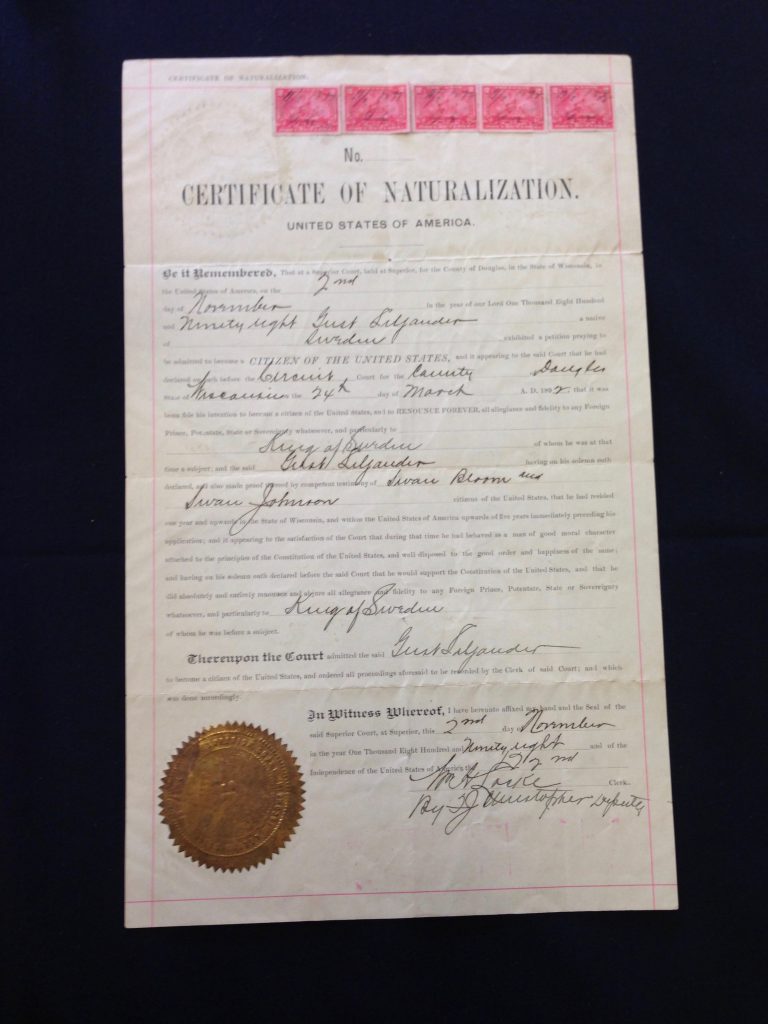 In 1898, Gust Liljander apply for Certificate of Naturalization. Swan Bloom and Swan Johnsson testified that he had lived more than one year in Wisconsin and more than five years in the United States. Furthermore that he has behaved as a man of good moral character.